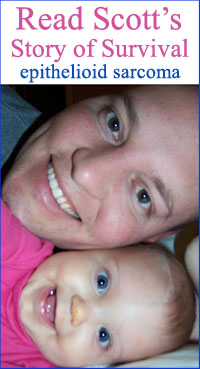 I was 27 in February 2006 when diagnosed with Epitheliod Sarcoma (a very rare cancer) in my left hand. I started 3 months of very toxic chemotherapy, which made me feel worse than I did before the chemo. During these energy draining three months, my Sarcoma continued to grow. May 2006, my left hand was amputated above the wrist.
I was healthy for a year and a half. Then my left bicep began lighting up with large red areas on the PET scan – the Sarcoma had returned! During 2008, I went through more chemo and surgeries that continued to fail – seven times!
My Oncologist's only option to keep me alive was a quarter-body-resection – amputating my entire left arm, collar bone and shoulder blade. We knew for a fact that so called MODERN MEDICINE is not so Modern.
We continued to pray that Jesus would send us to a holistic doctor that would work on the entire body and not just treat where the doctors could see the cancer in my arm. In June, 2009, Jesus answered our prayers by leading us to Dr. Carlos Garcia at Utopia Wellness. Dr. Garcia uses multiple applications to treat cancer which consist of a Vitamin I.V. bag, supplements, colon cleanses, strict diet, exercise and clearing and freeing your mind through Core Health Sessions and the Heart Forgiveness Series.
When we left from the initial consultation, we knew Utopia Wellness was where we needed to be to get treatment. During the first day, Dr. Garcia introduced me to Jill Perline, a Facilitator with Core Health, who assisted me getting my mind and heart working together as one. After the first week of treatments at Utopia Wellness and with Core Health, I had more energy, confidence and all around healthier lifestyle. It was really great to be able to watch my Sarcoma shrink, since it was visible through my skin.
After all the Medical Doctors in modern medicine said there was no hope – Dr. Garcia and Jill Perline assisted me to state I AM CANCER FREE, in less than four months!!! Best of all, I still have my arm and will live a long and happy life with my wife Jenn and daughter Grace. We thank Jesus on a daily basis for healing my body by bringing us to Utopia Wellness and Core Health.
Through the Core Heath and Heart Forgiveness Sessions, my body pH went from an acidic 6.0 to a healthy alkaline 7.3 in two weeks. My will-to-live went from 77% to 100% during the first visit. I started with 65% cells protecting themselves – meaning they were not being proactive in fighting off anything in my body. In three weeks, 0% cells were protecting themselves. We found out that my cancer was 7% physical and 93% attitude (mental, emotional, energy). That meant I had to clear and free all my deeper energy issues if I wanted to get healthy. In seven short weeks with Core Health and Heart Forgiveness, I was completely healthy mentally, physically, emotionally and spiritually.
Thanks again Jill Perline, for the passion you have in creating a wonderful environment for all your clients to come and enjoy the Core Health sessions.
Scott and Jenn on Dr. Garcia's website
Core Health (you are here now)