---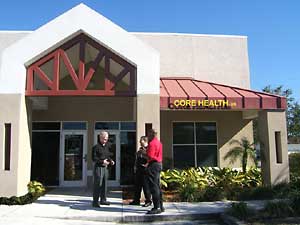 Energy Essentials offers a variety of training opportunities that create and blend subjective experiences with objective/rational experiences to create a powerfully balanced whole.
Our main courses are Core Health and the Life Applications Series. Specialized group courses and participation by telephone can be developed.
Core Health "prepares the inside terrain" of our lives. We systematically free ourselves from the universal areas where people get stuck, and from the hurts and pain and baggage gathered as we live our lives. This is accomplished without reliving the past or going back through the pain. Positive energy is then expressed in positive living. Two 3-day weekend or three 2-day weekend intensives can accomplish Core Health.
Life Applications are tools for outside, everyday issues we frequently face. These uniquely individual series include:
Heart Forgiveness (a 2-day intensive)
Are YOU Funny with MONEY?
Continuous Meditation
Readiness for Relationship
Couples Synergy
Silent Re~Treat
Healthy Weight — Beyond What Goes Into YOUR Mouth
... and more.
Contact the Facilitator in your area for a personal session,
and to be notified of courses they lead.
Become a Facilitator: Core Health TRAINING develops your ability to lead groups and to assist individuals in the Core Health processes, and in the Life Applications courses.
Prerequisites for this program are completing Core Health, Heart Forgiveness and Silent Re~Treat for yourself.
TRAINING: you must complete a "practicum" of facilitating an individual or group through all 12 Expansion Levels of Core Health while taking the 3 weekends of TRAINING, and sign the Integrity Agreement.
Individuals completing Training in the 12 Expansion Levels of Core Health are designated CHF, Core Health Facilitator, and are available to assist others with Core Health. Individuals with additional Skills Development Training are designated ACHF, Advanced Core Health Facilitators.ACHT, Advanced Core Health Trainer, designates those capable of training others to be Facilitators.
Send an email to Health@CoreHealth.us for more information on
becoming a Facilitator.
Learning by Experiencing
True learning arrives through personal experience. This is beyond reading, talking, theorizing, and another lecture "about it." Suppose someone tells you "about" something, then you experience it as totally different — which would you trust? What someone told you? Or what you personally experience? True reality flows from your own individual experience, in every cell and vibration of your being. You know and you know that you know.
Each aspect of the Core Health and Life Applications series creates personal, measurable, retainable experiences — subjective and objective — resulting in life-long change.
Powerful and Effective Methods
Energy Essentials has created very powerful methods of clearing and learning at all levels — spiritual, mental, emotional and physical. We've experimented with various training formats regarding their effectiveness, sequencing, spacing, retention, and creating optimum individual experiences. The results are real and often beyond description — ineffable.
People of all ages are excited by this powerful process and by energy measuring. From ages 5 to 92, from those addicted to drugs and crime, to participants in retreats for families, for women, and for men, these methods are proven truly effective across all ages, and all social and cultural dimensions.
Life is more vast than our wildest imaginations and dreams.
Come have fun with us, and experience more of your True Self.
Add Core Health, Life Applications, Core Health Training, or a single session to your group's experience. All team members are available as speakers at conferences. CE credit can be accomplished.
Contact us at Health@CoreHealth.us.
---
A Facilitator completes 30+ sessions: Core Health, Heart Forgiveness, Continuous Meditation and other Life Application Series to clear their own self. They then complete their TRAINING including a practicum of facilitating an individual through all 12 Expansion Levels of Core Health.
Individuals completing Training in the 12 Expansion Levels of Core Health are designated CHF, Core Health Facilitator and are available to assist others with Core Health. Individuals with additional Skills Development Training are designated ACHF, Advanced Core Health Facilitators. ACHT, Advanced Core Health Trainer designates those capable of training others to be Facilitators.
Philip Orth, M.A. Core Health Facilitator
pochakra@yahoo.com
Clearwater, Florida Ph. 727-443-0327

For 35+ years I have been a student of spirituality and psychology, and a professional educator. I studied A Course in Miracles for 12 years and leading classes for 5 years. I am a certified yoga instructor conducting a weekly class with a deep meditative focus for the past 2.5 years. I provide DVD lectures by Dr. David R. Hawkins, M.D., Ph.D. on a monthly basis at Dunedin Unity Church.

Core Health is like an energetic-psycho-spiritual "M.R.I." that skillfully pinpoints blocks and distortions one is holding below the level of awareness that are stealing one's quality of life. Core Health then quickly, deeply and thoroughly clears and frees one's energetic field from them. This allows one's innate core of health, physical, emotional, mental and spiritual, to flourish and expand. The results I'm seeing are amazing! Professionally, I have been doing school counseling for 27 years, and for 8 of those years had a private mental health counseling practice. In addition to providing Core Health group Workshops and private sessions for individuals, I am working with Dr. Carlson and other Core Health Facilitators to integrate "Core Health for Youth" into our schools into our schools. More information and classes, Click Here.


Leslie Green, ACHF
CoreHealth7@aol.com
St. Petersburg, Florida Ph. 727-381-8089

I have a psychology degree, with graduate study in biology and clinical nutrition. In 2003 I began with the creation of Heart Forgiveness with Dr. Carlson, then participated in Core Health, Positive and Powerful Communication, Healthy Weight, Funny Money, plus several series of Continuous Meditation. I organized the Research Group on Depression. In 2005, I became a certified Core Health Facilitator. In 2006, I earned Advanced Core Health Facilitator certification, and continue participation in the ever-expanding cutting-edge discoveries in the Core Health process – completing 3 advanced trainings. I facilitated the original "Transferability Study", and am currently co-leader of the research in "Core Health for Youth."

I actively and eagerly see clients one-on-one, in groups and at a distance, to assist them to live from their inborn Radiant Core of Health and also facilitate the Life Series Applications. My additional background is in Energy Psychology, Positive Psychology, Quantum Touch, EFT, and Grand Master David's advanced studies. I thoroughly enjoy assisting people to be in control of their own energy, moving through life freely, positively, happily. I invite you to contact me to experience this powerful process and observe your life experiences leap to joy beyond your imagination. More information and classes, Click Here.


Dr. Jeanne Bangtson, D.C.
DrJeanne@millmd.com
Saint Petersburg, Florida Ph. 727-541-2675

Millennium Medical is the largest integrative healthcare clinic in Florida. We emphasize "patient care" rather than "disease care" - offering a more effective way of achieving long-term wellness than the temporary damage control so common in today's medicine. Our philosophy is that to find the root of the problem, you have to dig beyond the symptoms. Our staff includes primary care physicians, physical therapists, chiropractors, acupuncturists, licensed massage therapists, and weight control specialists.

Since 1982, I have trained in a wide variety of traditional, integrative, and holistic modalities -- including Ayurvedic Medicine, Functional Medicine, Energy Medicine and Sports Injuries. Core Health is a powerful process that adds a dimension beyond any other modality, to propel my patients to true Health. Trained in Core Health and Heart Forgiveness, I utilize both to assist individuals to become free of disease, and then to be optimally healthy. Difficult cases, decades long, that do not respond to traditional and alternative therapies markedly improve in the initial Core Health visits.

Visit www.millmd.com.

Mary Ellen Rivera, ACHF, LMT
me.rivera@verizon.net
Tampa, Florida Ph. 813-962-4293

I am an Advanced Core Health Facilitator, and a Certified Natural Health Professional. I have assisted Dr. Carlson in the advancement and implementation of the Core Health process and Life Applications. My facilitation skills have accelerated many individuals on their path to in~powerment. By clearing distorted energy patterns of life experiences, family and social conditioning, they live happier, healthier, fuller lives. I am a certified Reiki Master and use this modality in my Licensed Massage Therapy practice. More information and classes, Click Here.


Alexandra, ACHF


charart1@gmail.com
Nashville, Tennessee Ph. 615-297-1082

As an Advanced Core Health Facilitator, with certification in Heart Forgiveness, I created "Women of Excellence" in the Antioch Jail for Women. We have held 6 "graduations" in 2 years – the changes are marvelous. The Sheriff honored me with a ceremonial plaque. Vanderbilt University students are doing a documentary on my healing work both in the jail and in my private practice. I co-facilitated the research project "Core Health: Beyond Energy Psychology" . Additionally, I am an artist and a gourmet chef.


Rick Eldridge, ACHF, CNHP Rick@FloridaTriad.com
Tampa, Florida Ph. 813-927-5647

Facilitating journeys in Core Health Expansions & Life Applications

Life is the Classroom: Bring your Inner Teacher and activate Remembered Wellness of your True self.

Remembered Wellness is simply a shift in Attitude allowing you to live creatively, powerfully, and joyfully. Leap to the core of your energy system to remove harmful distortions of poor decisions, destructive impulses, and traumatic experiences to release the Love your Heart has waiting for the world of tomorrows. You no longer have to 'feel it to heal it.' I was co-facilitator for the research project "Core Health: Beyond Energy Psychology". More information and classes, Click Here.

Jill M. Perline, LMT, ACHF
internationalhealthalliancesllc@yahoo.com
Owner of International Health Alliances
Denver, Colorado Ph. 727-710-5455

Jill is a Licensed Massage Therapist,MA:34146, the author of the upcoming book Bugging Out, Connecting In, and was certified as an Advanced Core Health Facilitator in the first course offered in 2005. Jill's programs have helped over 4,000 individuals nationwide achieve better health & peak performance. Jill has assisted individuals in freeing themselves from diseases that traditional approaches thought were impossible to eliminate. Her clients range from CEOs interested in increasing their bottom line, to individuals suffering from diseases such as cancer, depression, and addictions, to elite athletes looking to improve performance. More Information and classes, Click Here.



"Bringing The World Together, Through Optimizing Health."

Johan Miller, CHF, Founder Worldwide Kindness Community
johan@kindnesscommunity.org
Toledo, OH Ph. 419-754-6909
(Classes offered in Ohio, Tennessee, Florida & Will travel.)

I am a Core Health Facilitator, the founder of Worldwide Kindness Community, an Intuitive Energetic Healing Guide, an EFT Advanced Practitioner, a Reiki Master and online business building expert. My primary interest is focused on helping others achieve a higher self worth, greater spiritual perspective and walking a life of wholeness. I was ordained as a Minister of Christ in 1992 and continue with that love through today. Traveling inside and outside of the USA (including ministry trips to Mexico, Peru and Brazil). In the late 90's I founded Golden Spiral Ministries. In 2007 the yearning of my heart led me to Dr. Ed Carlson, discovering the 'how' of truly walking a life of wholeness, Core Health. Quickly integrating the program into myself and into the ministry. More information and classes, Click Here.


"We are all born connected, no concept of separation from anything. Then living life convinces us of being separate; sends many confusing, conflicting stories. Core Health energetically rewrites this programming, reawakens the union!"

Linda Chrystal, CHF, JSJ, LMT
SpiritRover@hotmail.com
Tampa, Florida 813-264-0303

As we remove the obstructions hindering our wellbeing, we discover that health is our natural state. You can discover your own Core Health with this simple process of shifting energy flow by clearing old blockages that no longer serve your highest good. After 30 years of studies in Energy Medicine, I share this amazing journey with you as a Core Health, Heart Forgiveness, and Funny with Money Facilitator. Begin to raise your own energy vibration to live a brighter happier life and create a new pattern for joy. Experience the true joie de vivre' that IS the JOY found in your own HEART! My private practice also includes licensing as a Therapeutic Massage and Jin Shin Jyutsu Practitioner, as well as a certified Jin Shin Jyutsu Self-Help Instructor who provides Continuing Education Units (CEU) for Nurses and Florida Massage Therapists. Spiritually centered decades of evolving holistic studies prove to me that our body heals from within as we uncover the truth of our perfection. My joy is assisting you in re-discovering this process.More Information and classes, Click Here.
Known as "a catalyst for change" and involved in personal development and training for over twenty years, I now utilize Core Health and Heart Forgiveness as the fastest and most effective ways to access the naturally healthy core of being. After years of learning/utilizing a multitude of alternative modalities, I have identified the most direct route available through Energy Measuring. Studying the work of Dr. David R. Hawkins since 2005 has hugely expanded the way I live and function. Core Health brought me full circle. For me life is radically improved thanks to Core Health and thus my inspiration to serve others as a Core Health Facilitator.



Michael Barrett, BS, CHF
corehealthfacilitator@gmail.com

Sarasota, Florida 888-308-0369

As a Qigong Practitioner for 20+ years, Author, Trainer, Boomer Coach, incorporated into my knowledge of health is the reality: "vibrant health is our natural 'default'." Anything else is neither universal nor natural. My life passion is to in~power people to truly live in this vibrant healthy lifestyle, guided by Spirit and Love, by re-establishing the natural 'defaults' with which we were born. Core Health is the missing piece to the puzzle I have been looking for throughout my adult life.

Since 1971, I have focused on studying systems of energy, natural health and wellness, with an emphasis on longevity and physical balance. Born in San Francisco with a strong orientation to Spirituality, I have been aligned with Eastern energy and healing practices from a very young age.

In addition to Core Health and Heart Forgiveness, my diverse entrepreneurial and leadership background spans over 30 years. Some of my highlights are Train the Trainer Certification; Ordained Mininster; Course in Miracles; Enlightened Warrior; Peak Potentials core staff for 28 events facilitating many individual breakthroughs.



Shawna J Pelton, HHP, CHF
SJPWellness@yahoo.com

Boston, Massachusetts 813-966-0164

My passion and life's purpose is to teach, nurture & enlighten. Helping people to remember and evoke their own inborn source of optimal health in mind, body & spirit. Recent work includes "The Natural Approach to Anti Aging" & "Natural Alternatives to Overcome Addiction." I am very commited to lightwork and find joy in sharing enlightening information for the betterment of humankind. With practicum experience in energy work, holistic skin care and nutrition principals, I have over a decade of experience and hands on application. My degree in Holistic Health is from the Global College of Natural Medicine. My passion in this field is communicated through newsletters and blogs to share my findings with those who are seeking. Visit: Blog.SuccessWithShawna.com More information and classes, Click Here.
Linn Sennott, PhD, Yoga Teacher, CHF
lsennott@tisi-nav.com
St. Petersburg, Florida Ph. 727-599-5819

University professor, teacher, and researcher for 30 years publishing articles and a book in advanced mathematics. I am a long-time yoga student and a yoga teacher in the Kripalu tradition, teaching heart-centered classes. As an E-RYT (Experienced Registered Yoga Teacher), I've innovated a method incorporating hand weights, exercise bands, and balls with the yoga postures, while maintaining a meditative focus. I am also an experienced workshop leader in various yogic topics.

As a professor, and later, I studied psychology and various personal growth methods. But I felt that something was missing. Then, I had the great fortune to discover Core Health and the amazing discovery that underneath everything is Energy! I experienced from the inside out (rather than from the outside in, as in most modalities) that we each have a Pure Core of healthy energy, that we can clear blockages to its full expression, and then continue to expand this naturally healthy core to all aspects of our life. Through the amazingly simple, yet elegant and deep, Core Health methods, we can free our energies, enabling us to create and live the full and joyous life we have always dreamed about. As a CH Facilitator, I look forward to sharing the wonders of Core Health, Heart Forgiveness, and other application series with you.

With a lifelong interest in the study of creativity, and as an emerging poet, I look forward to assisting you to expand into a richly creative life where each day is a new adventure. Assisting you to enjoy life abundantly is my great honor and privilege.


Stephen Brewer, CHF, BS, LYI
Stephenbrewer99@hotmail.com
Dunedin, Florida Ph. 727 736-0850

Student and facilitator of a Course in Miracles; student of Dr. Hawkins and the Scale of Consciousness for many years; Weight Watchers Instructor for five years with personal success in removing 50 pounds and maintaining that over the years. I enjoy laughing and am a Laughter Yoga facilitator.

My desire is to help people with weight problems and health issues due to weight problems, using as a basis the Core Health process which helps us let go of unhealthy life lessons by remembering who we truly are at our core.
Staci Kotsch, CHF
Kotsch.S@gmail.com
Gainesville, Florida Ph. 727-421-9115

I am a stay at home mom. My husband and I have five children ranging from the ages of 19-2 years. Core Health changed my life. Although being a religious and spiritual person, something was missing. I ventured through all 12 levels of Core Health, then the Silent Re~Treat, and Heart Forgiveness. The most amazing transformations happened to me. Although life continues to issue challenges, I am much better equipped to overcome those challenges. Recently acquiring a Facilitator's certificate, my goal is to help those who choose to improve themselves from the inside out. More information and classes, Click Here.

Rev. Loretta Pickford, CPCC, CHF Loretta@MagnificentJourney.net
Asheville, NC Ph. 828-299-8319

I am a Certified Professional Co-Active Coach (CPCC) and have been coaching individuals and small business owners for 7 years. I am very excited to add Core Health as the foundation of my coaching services. "Preparing the terrain" is critical to success in all aspects of life and business. My goal is to guide my clients to a life of inner pace and joy. Core Health is an essential part of that journey.

I bring a diverse array of life, spiritual and business experience to my work. Whether you are looking for the Core Health process only or you want the additional support of an experienced coach, I can guide you in taking the next steps on your life journey. For more information see www.MagnificentJourney.net. Call me to discuss the possibilities! More information and classes, Click Here.



Valerie Hodges, CHF
vlhodges@hotmail.com
Valrico, Florida

In 2006 I needed to find a way to reduce my stress levels and take control of my health. I knew that negative thoughts had a direct effect on my health and if I think something is real, it is real to me. I did not know how to change my negative thoughts, nor did I have the skills to let them go. I had tried "talk" therapy, group workshops, diet programs and women empowerment groups; after each, I always ended up exactly where I started. I knew I must find something that was effective long term. A friend suggested I take Heart Forgiveness with my adult children. I witnessed first hand the difference it made in my children, in our family and in me. I also learned there was more I could do to help myself be a better me. I started the Core Health series and decided to become a Facilitator. I am a firm believer that you know what you have been taught . . . until you learn something new. Core Health is my something new. I am eager to assist others to experience this simple, fast, and amazing process. I delight in sharing these skills with others so they can make positive shifts in their lives. Everyone now has the opportunity to be healthy and happy and the Core Health Series does precisely that. Here I am, here I stand and I am thrilled as this journey continues.

Beverly Barris, CHF
bevart@tampabay.rr.com
Lutz, Florida Ph. 813-966-1246

I have been aware of "energy" since my twenties when I started my spiritual journey, and practiced applied kinesiology on myself for two years before discovering Core Health. This is a profound way re-gaining health and measuring one's health. You actually feel better very quickly. After searching for ways to benefit myself including Standard therapy, seminars and extensive workshops, Core Health is by far the best process I've found to clear out negativity to be fully healthy spiritually, mentally, emotionally and physically. I knew within five minutes at the first Core Health seminar that I both wanted this for myself, and I wanted to facilitate and help others. I have been looking for this my whole life and was blessed to have finally found it. I am also an artist my whole life, painting murals and creating sculptures for client's homes and businesses. I create portraits and spiritual paintings. My work, which is quite diversified, can be found in galleries and on my website www.beverlybarris.com. Core Health is definitely worth experiencing and guarantees you the results you are looking for.

Ed Eisler, CHF, LMT, Occupational Therapy Assist. (A.S.)
ed@eislertherapeutics.com
Daytona Beach, FL Ph. 386-214-6465

Certified Fitness Trainer, Certified Chi Running & Chi Walking Instructor, Yoga Instructor. I am a multi disciplinary therapist who strives to offer effective mind, body, spirit approaches to wellness. My personal interests are in marathon running, Bach Flower remedies, mindful movement practices and self discoveries. The Core Health and Heart Forgiveness were so life changing for me, that I decided to become a Core Health Facilitator to be able to share these inner shifts and in-powerings with others.

Becky Hall, ACHF energyessentials@bellsouth.net
Clarksville, Tennessee Ph. 931-551-7736

As a professional photographer and faculty member at Austin Peay University, Core Health concepts continuously benefit me, my work, and the students. I am President of the Downtown Artists Co-Op, and have applied many Core Health principles in this creative challenge. I enjoy organizing multi-day empowering experiences for people, such as Living an Energetic Life, Heart Forgiveness, Core Health, and a Silent Re~Treat based on the Unceasing Prayer/Meditation. I am also available for One-with-One facilitations.




Dr. Juliette DesJardins, MD, JD juliette_catalina@hotmail.com
San Francisco, California

I completed a fellowship in Child Psychiatry at Vanderbilt University and also a Certification as a Light Body Energy (Shamanic) Healer through the Four Winds Society. I thus have trained and been practicing in many modalities of healing. My diverse set of practices serve children, adolescents, adults and families. My teenage clients and families really enjoy doing Core Health work. I am impressed how Core Health works so deeply in such an efficient manner.


Cathy Palasz, ACHF cpalasz@earthlink.net
Phoenix, Arizona Ph. 480-544-2299

One of the biggest benefits I have gained from Core Health and Heart Forgiveness is the ability to tap into my heart and release anger and other pent-up emotions quickly and with a greater love for myself. My goal is to assist others to activate their own Inner Wisdom, by utilizing both Core Health and Heart Forgiveness in my work with individuals and groups. In addition to being an Advanced Core Health Facilitator, I offer sessions and workshops in Transference Healing, a high vibrational universal healing modality that provides additional support for an individual's ascension process during this time of evolution. I am available for out of town travel and speaking engagements.

Genevieve Normand, ACHF

healnow@earthlink.net


Mobile Core Health Center Ph. 678-245-1127

Core Health is your opportunity to "choose" - life, health and so much more.
As a Facilitator for assisted wellness, my years of experience demonstrate that the Core Health process empowers individuals to "help themselves", without the drama or need to tell their "story". Core Health dissolves our outer challenges or makes dealing with them easier and more effective. This can bring gains in all areas of our life including health, business, relationships and peace of mind.

Helping you to find your truth and empower your life is my purpose and Core Health is the way. I now travel worldwide, as an Advanced Core Health Facilitator. Are you ready to step out in trust and live the life you choose? Core Health can help you discover the Infinite Possibilities available to you.

Kathy Bell, RN, CHF kstrang78@hotmail.com
Fairview, TN Ph. 615-799-1547 219-628-2199

I am a Registered Nurse. In addition to being a Facilitator in Core Health and Heart Forgiveness, I am a practicing Reiki Master/Teacher. I assist patients in expanding their core of health which results in amazing improvements and remissions. Truly wholistic approaches resolve dis-eases, include healing the spirit.

Brenda Ball, M.S., L.M.H.C., N.C.C., CHF brendaball@verizon.net
Largo, Florida
As a Core Health and Heart Forgiveness Facilitator, I continue to be amazed at the powerful effect of this work. As a psychotherapist 18 years, working with energy psychology for 16 years, I find Core Health takes you to a deeper level, with identifiable and faster results.

Core Health gets you to "core" issues quickly, getting you out of your head to experience and clear your energy. That is the power for me personally and for my clients. Painful things happen in life, but we don't have to continue to suffer. Core Health and Heart Forgiveness provide the road to be free and happy no matter what's going on around you.

As a National Speaker I share this wisdom and receive positive responses from individuals and organizations. When you choose to experience this, contact me for individual sessions, classes, or to speak to your organization. You'll be glad you did!


Jared Clark, CHF
jhclark17@yahoo.com
Tampa, Florida Ph. 336-880-8120

For years I was searching for something, not quite sure what, that resonated within myself. After my first session with Core Health, I knew that I found that something. As I went through the Core Health series, I personally experienced the simple, yet astonishing power of what Dr. Carlson had created. As I learn and experience more, I grow in ways that I did not think possible.

I look forward to continuing my journey and enjoying, not my new life, but the rediscovered life that we were all given when we were born. The life that I slowly gave away, piece by piece, over the years. I am enjoying discovering my true self, and living a life of joy and amazement. Most importantly, I am focusing on helping others find their true self again – showing people that we can make a new choice, today. To live a life of abundant happiness, to assuage the grief that we all have felt, and show the world that we can truly live Happy and Healthy!

I am available for group or individual sessions and eagerly look forward to helping others through Core Health and its Life Application Series.

Kore Ashton, CHF, LMT, CHy
kore.corehealth@yahoo.com
St. Petersburg, Florida Ph. 727-458-3333

As a lifestyle designer and energy practitioner, my goal is to assist others in finding their "core self" while creating and maintaining balance within as well as creating sacred environments.

I have studied energetic systems for almost twenty years, and I have found the Core Health system to be very profound and beneficial in aiding inner development.


Tammy Jinks, CHF
corehealth11@juno.com
Oklahoma City, OK 73159 Ph. 727-479-5429

I am very thankful I was introduced to Core Health after living the last five years with an undiagnosed illness. In my quest to regain health, I explored a wide variety of traditional and wholistic medicine including several energy healing modalities (EFT, QXCI/SCIO, acupuncture, etc.) which did not help.

Initially, I participated in the 12 Expansion Levels of Core Health (Series I and II). I was amazed at how much I benefited both physically and emotionally. I regained more of my health in 12 weeks than I had in the past five years. I had always lived my life as a Type A personality – through Core Health I realized I no longer had to live that way. What a relief! I went on to participate in Heart Forgiveness, Funny with Money, and then certification through Core Health Facilitator Training.

I chose to become a Core Health Facilitator as a great complement to my new career path in Holistic Nutrition. I look forward to guiding others through Core Health while allowing them to experience their own life changing breakthroughs.

Allison Howard, CHF
ahowardfl@yahoo.com
Tampa, Florida

As a librarian with a background in health education, and a life-long learner, I'm continually amazed and intrigued at the simplicity and results of Core Health.

Renee McInnis , CHF
rmcinnis@girlsinc-pinellas.org
Pinellas Park, Florida Ph. 727-544-6230x117

I have been connected with energy work on a conscious level since I was a small child, but I didn't call it that. In fact, I didn't really know what "that" was, except that it was wonderful and that it was my passion. As a child I connected through gardening, music, animals, astronomy, and so much more. As a young adult, I continued in college with studies in anthropology and religion. I found academia limiting and explored more on my own, which led me to Core Health in 2005. This I found to be transformational and continued study with Heart Forgiveness and Weight Loss.

Professionally for the past 25 years I have had the honor of working for social justice and change through innovative programs where I have been able to apply my energy work. Integrating my passion with my career is very rewarding, and I feel very blessed.

Daniel Funk, CHF
SkyDaniel@copper.net
Kenneth City, Florida Ph. 727-492-8939

As an individual, and as a "technical" helicopter pilot, I was skeptical about energy measuring and Heart Forgiveness when it was offered to me in 2002, over six years ago. I was out of solutions for my glitches, so I figured I would give it a try, I am glad I did.

When I found Core Health early in 2008 I was pleased to discover bonus shifts from Heart Forgiveness had been working all along below my level of awareness resulting in great personal benefits to me.

While taking additional courses this year I was strongly drawn to be a Facilitator. I am continually amazed by energy measuring. I am even more amazed at the depth and number of points some of my glitches had. I am astounded by the simple direct way in which Core Health erases these glitches and how the results continue and are measurable.

You are not reading this page by mistake, so contact me or another Facilitator to begin to get results that will improve and impress you. My results do! Daniel 727-492-8939

Patricia Weiss, BA, LMT, CHF
PattiWLMT@aol.com
Daytona Beach, Florida Ph. 386-795-5421

I have been a Massage Therapist for 20 years. I have studied a wide range of modalities and Metaphysics to help me bring peace and wellness to my clients. Core Health has taught me to be a guide on the client's journey to wellness. Becoming a Facilitator of Core Health has been a stellar Perfect Moment for me as a person and a Therapist.


Jackie Werner, BA, RN, CHF
jwerner@bellsouth.net
Edgewater, Florida Ph. 386-424-9951

I am a nurse, and have participated in Heart Forgiveness and the Unceasing Meditation/Prayer Silent Re~Treat. These were followed by becoming trained as a Core Health Facilitator. I am amazed at the changes and shifts I have experienced and cannot wait to see what the future holds. This will always be a part of my life.


Brian Ward, CHF brianward1117@yahoo.com
Brandon, Florida

I have an anthropology degree and co-facilitated the "Incarcerated Criminal Drug Addicts" research program. I am investigating and exploring the applications of Core Health Expansion/Facilitation in regard to the fields of personal growth and development and maximum human potential. I promote the benefits of this life enhancing process among children ages 5-95. I have led the workshop "Healthy Weight, Beyond What Goes Into YOUR Mouth," and am qualified to lead the other skill development workshops. I completed Grandmaster David Harris' Advanced Healing Course, and have become an ordained minister.

Barbara Goss, CHF ROBOFLO@aol.com
Clearwater, Florida

I am a certified Core Health Facilitator, and have studied Metaphysics for 25 years, and been a practitioner of Therapeutic Touch for 17 years. I have 4 grown children, and owned my own business for 31 years. I volunteer for several worthwhile causes. Core Health is the best gift you can give to your Self.

Madeline Diemer, CHF AnnDiemer@yahoo.com
Tampa, Florida Ph. 813-920-8451

In my four decades of assisting people and leading a church, and authoring the book Journey to Joy: A Guide to Enjoying your Emotions, I am delighted to have the added resource of being a certified Core Health Facilitator. I have personally experienced, and witnessed in others, profound shifts with this powerful process.

Kathryn Carlson, CHF
Columbia, South Carolina

My degree is Business Administration and Mass Communications. Currently, my career is in the facilities/arena event planning and marketing fields. I love to travel and learn about different cultures;
I have already been to over 15 countries -- my favorite of which is Ireland. I speak Spanish and Italian. The choice to become a Core Health Facilitator began as an exploration into energy and the benefits to others around me. Being in my twenties, I see more closely how much craziness surrounds young people (especially in high school) and how it affects them into their adult lives. I want to be able to make an effective difference in both my own life and others' when they are ready and willing.

Sally Phalan, M.Sc.C.A.P.P, sally.phalan@o2.ie
Enniskerry, Co. Wicklow, Ireland, Tel. 00353 1 2829251

I have a Masters of Science in Child & Adolescent Psychoanalytic Psychotherapy from Trinity College in Dublin, a European Certificate of Psychotherapy, and Trainer Certification from International Focusing Institute. Upon meeting a trained Core Health Facilitator in Ireland, I immediately decided to travel to the U.S. for Core Health training. I completed Expansion Levels 1–6. Focusing on health is a marvelous balance to focusing solely on pathology.



Jill Speering, M.Ed dan4jill@aol.com
Dan Speering dan4jill@aol.com
Nashville, Tennessee Ph. 615-868-5306

In addition to being a Core Health Pratitioner, Jill is a Reading Recovery Teacher Leader in the Metro-Nashville Public Schools, and Teacher of the Year in 2006. Dan is a metaphysical student from a long line of conservative ministers. His daily work is expert elevator service technician for 30 years.

Heart Forgiveness (only) Facilitators
Pamela Gregory, HFF; Pamela@PamelaGregory.com

Weston, Florida Ph. 954-295-1417

I have 20+ years in the health and wellness industry as a fitness trainer, holistic health practitioner, and nutritional consultant. My greatest passion is to research empowering ways to help people enhance themselves. My primary focus is helping others to be clear and free on an emotional and energetic level. As a Heart Forgiveness Facilitator, I have now found the missing piece needed to help everyone I work with to finally achieve forgiveness, release anger, grief and guilt.

I founded Forgiveness Healing International to raise awareness about the healing power of forgiveness on a worldwide basis. I offer private and group sessions, workshops and seminars. I am most blessed to be a mom to three amazing children! http://PamelaGregory.com.

Diana Bustos, HFF; diana@inthemomentcoach.com Pembroke Pines, Florida Ph. 954-260-0804 I am a Personal Performance Coach, Heart Forgiveness Facilitator, EFT Practitioner, and workshop leader. My current direction is achieving a Master's Degree in Holistic Health with the American Institute of Holistic Theology. I love helping others as they overcome obstacles hindering their ability to live life to their fullest. Effective processes assist clients to identify and clear old wounds and limiting beliefs that are currently causing chaos in their life. Please visit www.inthemomentcoach.com. Maryum Haqq, HFF mhaqq48@yahoo.com

Toronto, Canada Ph. 416-519-3859



I am committed to being an active participant in the spiritual progress and change occurring within human beings and the world at large. My family and I have lived in Guyana, (South America), St. Croix (USVI), & Cairo, Egypt. What I found amongst the people of all these cultures is that the processes of Heart Forgiveness and Core Health benefit everyone regardless of social status or religious beliefs by enabling them to see the power, depth and impact that our own energy and thought processes have in our lives. Core Health successfully breaks through all barriers and truly shows the unity and oneness of our universe. I currently reside in Toronto Canada where I am pursing a degree in philosophy and psychology. Muscle testing is an exciting process and I am happy and willing to share with anyone desiring to learn. Matt Gross, HFF mnmgross@yahoo.com

I am studying for a Professional Writing degree at York University in Toronto, Canada. I experienced the Heart Forgiveness Series for myself, then became a Heart Forgiveness Facilitator. Having the founder of Core Health and Heart Forgiveness, Dr. Ed Carlson, as my step dad and in my life for the past 24 years has been a blessing. As a result I've been exposed first hand to the science of energy measuring. I've been able to see the development of this amazing process.

Personally, I have benefited from Heart Forgiveness. What an amazing method we have for our use to correct glitches our conscious mind has forgotten, and free ourselves to live more clearly. The Heart Forgiveness process is quick and super effective. No longer do we have to live with guilt and negativity -- we can release the ties that bind us and be free. No more baggage!!

I've lived in South America, USVI, Egypt and Canada. During my travels I have seen much, and came to the realization that everyone would benefit from the forgiveness process. I'm so glad we have the opportunity to share this great process.

I am available to take people on an individual basis through this amazing process.



Energy Essentials makes no further assertions and assumes no responsibility or liability for these sites or individuals.
---
"Are YOU Funny with Money?" Clearwater, FL 2008
Core Health Intensive Weekends, Tampa, FL 2008
Silent Re~Treat, June 2008
FREE Introduction to Core Health and Heart Forgiveness
70 Participants, St. Petersburg, Florida, June 2008
Dr. Ed Demonstating
Core Health Completion Group
Clearwater, Florida April 2008
Heart Forgiveness Re~Treat Intensive
Brooksville, Florida April 2008
Bruce recommends Core Health and brings Dr. Ed and Facilitators on stage for a 20 minute presentation of "How To" create personal shifts in energy.
Silent Re~Treat in Tennessee
Weekend Intensive "Core Health 1"
New Smyrna Beach February 2008
Body in Harmony Group, September 2007
Living an Energetic Life Re~Treat
Intensive Weekend in Nashville
Tampa Research Group
Our "Tampa Research Group" headed by Rie Anderson
(shown in center), experienced every research aspect
for more than two and half years.
They are the original experimental subjects
to develop experiential reality!
First Core Health Training Group
Second Core Health Training Group
Third Core Health Training Group 1
Third Core Health Training Group 2
A portion of our group
at a Core Health Intensive in Nashville, TN.
"Ride the Lightning"
2007 Summer
Wei Chi Filter and Iron Shirt
Right to Left, Dr. Ed, GrandMaster David, Brian, Susan, Joyce, Madeline,
Rick, Leslie, Mark, Kenn, Mary Ellen, Kathryn, Henry.
Front: Snowball
back to top